Carpet in Montgomery, AL
Discover the perfect carpet that adds timeless charm and cozy comfort to your home at Carol's Carpet Flooring America in Montgomery, AL. Our stunning carpet collections are beloved in Montgomery, offering various patterns and textures at an unbeatable price. Step into our inviting showroom and find carpets to match any taste and style, from classic elegance to modern flair. With over 28 years of experience, our team is dedicated to helping you find the perfect carpet that fits your vision and budget without compromising quality.
We combine Southern hospitality with professional expertise at Carol's Carpet Flooring America. Our friendly team will guide you through the selection process, making it an enjoyable and stress-free experience. Transform your home into a cozy sanctuary with our plush, luxurious carpets that stand the test of time. Visit our showroom in Montgomery, AL, to experience the joy of walking on beauty and comfort. We'll help you create a space you'll love for years to come. Find your perfect carpet today!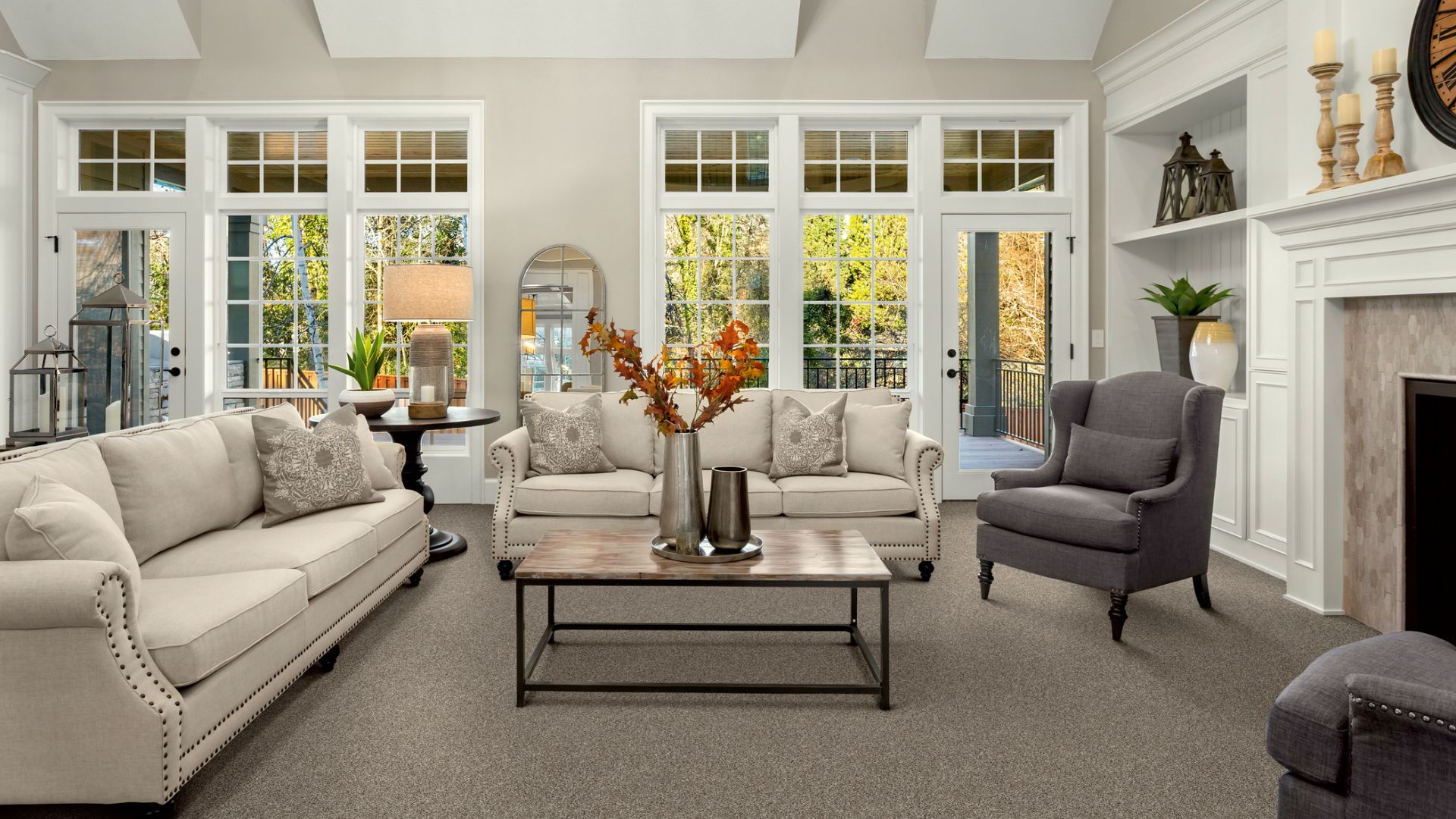 Discover the Advantages of Our Top-Quality Carpets
Are you tired of dull, worn-down carpets in your home, and in search of new flooring that adds charm and comfort to your space? Look no further than our extensive carpet selection. We understand that finding the perfect carpet for your home can be overwhelming, but fear not! Our flooring experts will take the time to understand your needs and budget, guiding you to the ideal carpet that suits your preferences and style.
Investing in our carpets means embracing a world of practical advantages. Our carpet selection is highly resilient, designed to withstand the common wear and tear caused by foot traffic, pet accidents, and children's playtime. Plus, they come with a host of benefits, including:
Soft & Comfortable Surface: Sink your feet into luxurious comfort with our carpets, providing a soft and cozy feel underfoot.

Stain, Spill, & Fade Resistance: Our carpets are engineered to resist stains and spills, keeping them looking fresh and vibrant for years to come.

Adds Style & Luxury to Any Room: Elevate the aesthetics of your home with our stunning carpet styles, adding a touch of elegance to every room.

Durable Against Pet & Child Activity: Pets and kids can be tough on carpets, but ours are up to the challenge, standing strong against their activities.

Safety: Our carpets offer a cushioned surface, providing added safety and protection from falls, especially for kids and the elderly.
Explore an Array of Carpet Types for Your Montgomery, AL Home!
We offer an incredible range of carpet types, each with unique benefits that cater to your needs. Whether you're looking for non-slip textures, allergy-resistant surfaces, or a solution to revamp your historic or older home with uneven subfloors, our carpets have you covered!
Step into our showroom, and you'll be amazed by our array of colors and styles. For those who love bold choices, our collection boasts eye-popping colors like deep burgundy and calming blues. If you prefer a more subtle touch, our beiges and creams beautifully accentuate existing furniture styles, creating an inviting ambiance in any room.
Selecting the perfect carpet involves considering various factors like fiber type, pile height, face weight, gauge, twist level, tuft tie, density, and stitch rate. It may sound overwhelming, but don't worry - our flooring experts are always here to guide you through the process and find the ideal carpet that suits your lifestyle and preferences. Let's explore some of the fantastic carpet types we offer:
Frieze Carpet: With its plush cut-pile construction and long-lasting curling fibers, Frieze carpet adds a touch of texture and character. Not only does it excel at camouflaging dirt, but it also effortlessly blends colors and patterns, making it a versatile choice for your home.

Loop & Cut-Loop Carpet: Loop carpets feature uncut loop fibers, providing a casual style while preventing foot imprints. For added interest, multi-loop options come with various pile heights. On the other hand, cut-loop carpets feature snag-free fibers, making them perfect for busy households with pets and kids.

Patterned Carpet: If you're looking to infuse your home with contemporary style and luxury, patterned carpets are a must-see. Utilizing advanced printing techniques, they create stunning designs that resemble works of art, elevating the aesthetics of any space.

Saxony Carpet: With their cut-pile construction, Saxony carpets exude luxury while resisting wear, shading, and traffic marks. Textured Saxony carpets with twisted fibers are also available for a coarser appearance.

Berber Carpet: Known for its lighter hues flecked with darker colors, Berber carpet is incredibly durable and adept at hiding soil, making it an excellent choice for high-traffic areas that require both style and functionality.
Professional Carpet Installation
At Carol's Carpet Flooring America, our commitment doesn't stop at helping you choose the perfect carpet. Our experienced technicians provide professional carpet installation, ensuring the longevity, appearance, and warranties of your new flooring. Back by our Adore Your Floor Guarantee, we'll make things right at no extra cost if any issues arise.
Our competitively priced rates guarantee the best value, and we're dedicated to providing every customer a convenient and pleasant experience. Your satisfaction is our priority. Discover our impressive carpet selection at our Montgomery showroom. Contact us or drop by and let us be your trusted partners in finding a fresh and exciting carpet for your home!


Contact us to learn more about our carpet selection and installation services. We proudly serve customers in Montgomery, Prattville, Wetumpka, Millbrook, AL, and the surrounding areas.