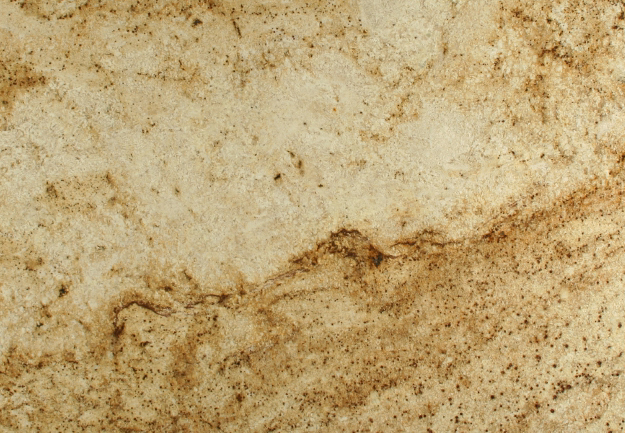 Earthy creamy colors create a calming environment that blend with warm color décor's. Batches can vary from random fleck to streaking patterns. Add value to your home with beautiful granite countertops and backsplashes.
The slabs have creamy whites and golds with brown and rust colored flecks. The surface is polished with a high shine. Carol's Carpet will cut slabs into larger pieces than most fabricators, reducing seams, showing a stones natural pattern.
We offer free kitchen sinks in a 50/50 or 60/40 look. The sinks have a brushed stainless steel visual and are made of 18 gauge steel. Cut outs are steel reinforced to strengthen the slab. Under mount sinks aren't just glued to the bottom of our stone but mechanically pinned to the stone for added durability.
Colonial Gold granite is one of the most beautiful stones in the world. As with most granite, it's durable, long lasting and extremely hard. In fact, studies show that granite used outdoors, weathers at less than .125" per 1,000 years. Polished granite architecture from 1,000 years ago still maintains it polish. Working granite requires the use of diamond tools since diamonds are one of the few stones harder than granite. Granite countertops immediately bring elegance to your home and increase the value. Natural Stone is not only a good investment but is considered to be one the most sanitary surfaces according to research by Hospitality Institute of Technology. To provide sanitary and easy maintenance our granite counters come factory sealed with DuPont's Bullet Proof sealer for easy maintenance.
There is no replacement for solid stone countertops as it has depth of color that can't be copied by man made products. Depth can be observed by the clarity in granite chips that allow darker chips to be seen underneath, giving the surface depth that's unique to natural stone. Man-made counters consist of ground-up granite chips mixed with filler and produce a topical color appearance.
Call our sales staff for free estimates on solid countertops.
334.272.5400
Montgomery and Prattville Showrooms