Hardwood Flooring in Montgomery, AL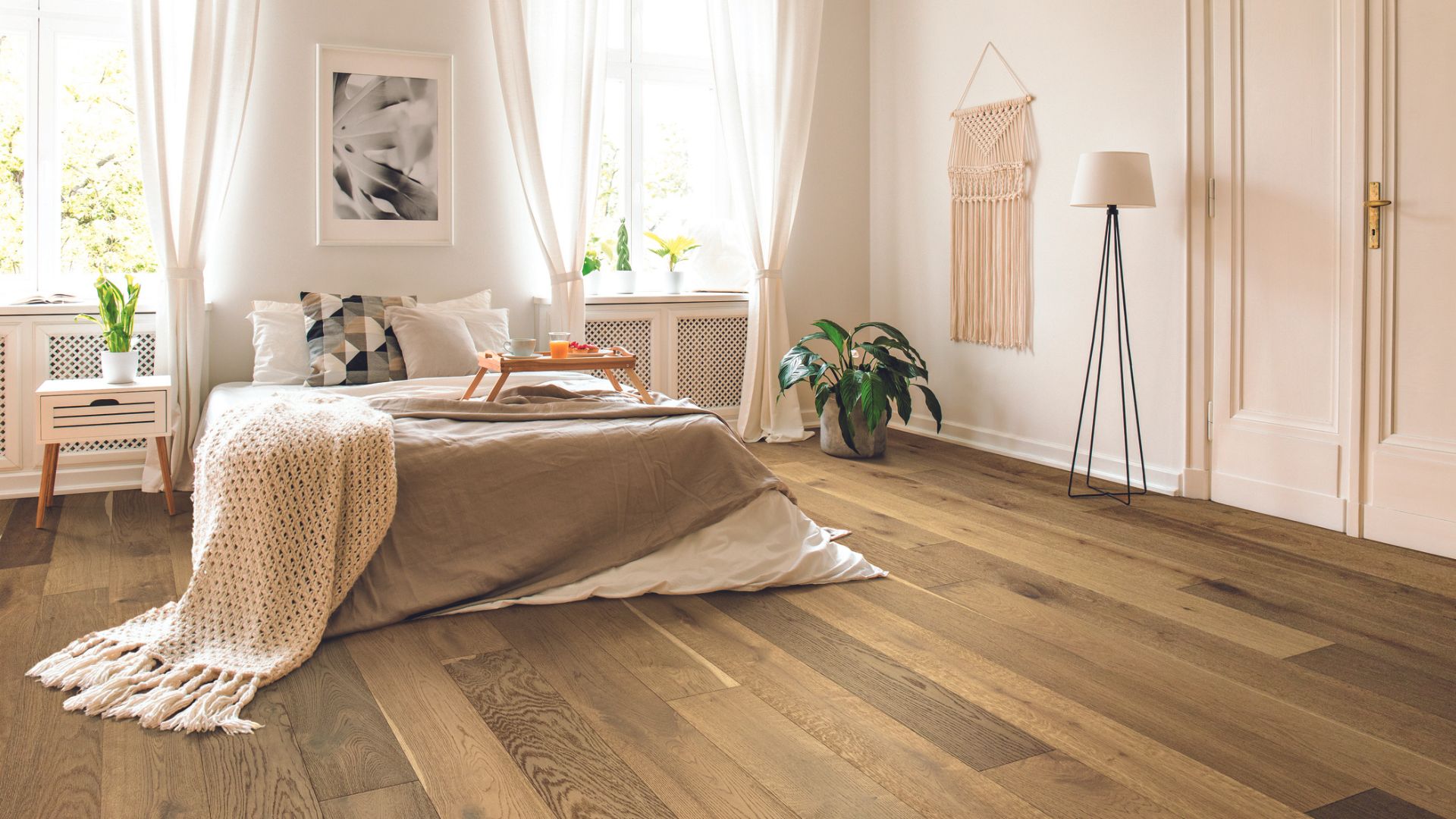 Discover the world of exquisite hardwood flooring at Carol's Carpet Flooring America in Montgomery, AL. As your premier destination for top-notch flooring solutions, we take pride in being your dedicated partner on your home improvement journey. With a passion for elevating spaces, we bring you an unparalleled selection of hardwood options that combine sophistication and resilience effortlessly.
From the classic charm of oak to the luxurious feel of cherry, our range of hardwood offerings caters to every style and preference. Each plank tells a unique story, showcasing nature's artistry and timeless beauty in every grain. Our experienced team understands that choosing the perfect hardwood involves more than aesthetics – an investment in your home's character and value.
At Carol's Carpet Flooring America, we go beyond providing exceptional flooring. We offer a personalized experience where our experts lend their knowledge to help you make an informed decision. We consider factors like foot traffic, room layout, and maintenance needs to guide you toward the ideal hardwood choice.
Step into a haven of premium quality and unmatched expertise as you explore our hardwood collection. Let us join you in creating inviting spaces that stand the test of time, where the art of hardwood meets the craftsmanship of Carol's Carpet Flooring America.
Explore Solid and Engineered Hardwood Options
When you're thinking about hardwood floors, there are two main types: solid and engineered. Each kind has special benefits and things to consider, especially if you're a homeowner in Montgomery. Let's take a closer look at both types:
Solid Hardwood Flooring: This type is made from a single piece of wood that's cut to the right thickness. It's a classic choice that many people love. You can choose from lots of different kinds of wood to match your style. One cool thing about solid hardwood is that it can be sanded and refinished multiple times. That means it can last a really long time. It's strong because it's thicker, and you can decide if you want it to look shiny, a little shiny, or not shiny at all. Solid hardwood can stay beautiful in your home for many years if you take care of it. It's great for places like bedrooms, living rooms, dining rooms, and hallways.
Engineered Hardwood Flooring: Engineered hardwood is different. It's made by stacking layers of wood together, with a top layer of real hardwood. This makes it tougher and less likely to change shape when it gets humid or wet. That's really handy, especially for places like kitchens, bathrooms, and basements that might have more moisture. You can even put it below ground level. Engineered hardwood gives you the best of both worlds – strong and looks nice. So, if you want a smart and stylish flooring choice for your home, engineered hardwood is a great pick.
Why You Should Choose Hardwood
Why choose the timeless charm of hardwood flooring? Let us count the ways:
Unmatched Elegance: There's a reason hardwood has been a staple in homes for generations. Its natural elegance adds a touch of class to any room, from cozy bedrooms to spacious living areas.
Durability That Lasts: Our hardwood floors are built to withstand the hustle and bustle of everyday life. They can handle whatever your family throws their way – from playful pets to energetic kids – while maintaining their stunning appearance.
Easy to Clean: Say goodbye to endless scrubbing and cleaning headaches. Hardwood floors are a breeze to maintain; a quick sweep or gentle mop keeps them looking their best.
Hypoallergenic Haven: Hardwood is a dream come true for those with allergies. Unlike carpets that trap allergens, these floors provide a clean and allergen-resistant surface, contributing to a healthier home environment.
Versatility in Design: Whether your style is rustic, modern, or anything in between, hardwood is a chameleon that adapts to your vision. Its diverse range of colors and grains perfectly matches your home's personality.
Long-Term Investment: Choosing hardwood flooring is an investment in your home's future. Not only does it increase the overall value of your property, but its longevity means you won't have to worry about frequent replacements.
How to Choose the Perfect Color for Your Hardwood Flooring
Picking the right color for your hardwood floors is like finding the perfect melody for your home's tune. Here's how to hit the right note:
Consider Your Space: Darker shades can add coziness to larger rooms, while lighter hues open up smaller spaces, giving an airy feel.
Match or Contrast: Align your floor color with your existing furniture and décor for a harmonious look, or go for contrast to create a statement piece.
Style Influence: Rustic or modern? The color can speak volumes about your chosen interior style—lighter tones for contemporary and deeper ones for a classic touch.
Natural Light: Take note of how much sunlight your space gets. Natural light can affect the color's appearance, so it's worth considering.
Samples Matter: Don't just rely on images. Get physical samples to see how they look in your home's lighting.
Professional Hardwood Flooring Installation
At Carol's Carpet Flooring America in Montgomery, AL, our skilled installation professionals are dedicated to bringing you outstanding service without breaking the bank. Our commitment to affordable rates allows you to indulge in your favorite flooring choices without exceeding your budget. We understand that the installation's quality directly impacts your floors' performance. Even the most exquisite flooring can lose its luster if not installed correctly. That's why we're committed to making top-notch installation accessible to all our customers by offering unbeatable prices.
Our services begin with a complimentary in-home estimate, ensuring you understand your project's scope and cost clearly. From selecting the perfect flooring to seamless installation, we're with you every step of the way. And here's the best part: our Adore Your Floor Guarantee. If, for any reason, you're not completely satisfied with your new floors within 30 days of installation, we offer a money-back guarantee. Your happiness and satisfaction are our top priorities.
Contact us to learn more about our hardwood selection and installation services. We proudly serve customers throughout Montgomery, Prattville, Wetumpka, and Millbrook, Alabama.