Hardwood Flooring in Montgomery, AL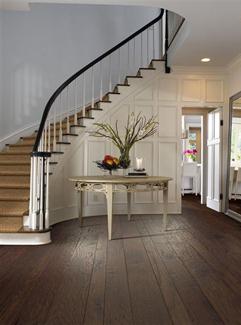 One of the most timeless, popular, and beautiful flooring options is hardwood flooring in Montgomery, AL, Our showroom offers an impressive selection of wood products that guarantee to enhance the look and feel in any space. The timeless flooring choice seamlessly combines an elegant yet rustic style that looks good no matter what style of décor you prefer. We offer all of the following hardwood style options:
Bungalow
Contemporary
Craftsman
Modern
Rustic
Traditional
Victorian
Shop for elegant wood floors at affordable prices that can fit any budget. We are able to do this because we harness the buying power that only a large franchise can possess to purchase all of our materials wholesale, which allows us to offer superior products at the lowest prices! With the help of our knowledgeable flooring associates, you are sure to find the ideal hardwood floors for your home in a single visit to our showroom.
Why Choose Hardwood Floors?
Flooring is a critical aspect of your home's interior design. With new and improved hardwood floors, you can transform the atmosphere and ambience of areas such as the living room, bedroom, family room, and dining room. We carry both pre-finished and site-finished hardwood options that ensure you can have the appearance, performance, and price you want. Classic hardwood floors are chosen for numerous reasons, including all of the following:
Available in a Range of Materials
Can be Refinished Rather than Replaced
Can Last the Lifespan of the Home
Dust & Allergy Free
Looks Luxurious in Any Room
Stain, Dent, & Fade Resistant
In addition, it is simple to clean and maintain. It's hard to find time to vacuum thoroughly on a weekly basis. Meticulously going back and forth to make sure you get every little speck of debris takes a lot of time and effort. Thanks to our wood flooring though, you don't have to pull and push this machine any longer. Simply dry mop your floors from time to time to remove most of the dust and debris, and mop with a hardwood cleanser on occasions to get a sparkling shine.
Pre-Finished & Site-Finished Hardwood Explained
Do you find yourself debating between pre-finished and site-finished hardwood? The main differences between these two options are explained as follows:
Pre-Finished Hardwood Flooring – These d floors are sanded and finished prior to installation. As soon as they are placed, your family can immediately begin walking on and enjoying your new floors. This flooring can also be installed more quickly than site-finished floors.
Site-Finished Hardwood Flooring – These floors are installed prior to the finishing process. There will be no detectable grooves in the flooring, as the boards are all sanded and coated at the same time. Because this process is performed at your home, the finished product is custom flooring that is unique to your home.
The Beauty of Engineered Hardwood Flooring in Your Home
Traditional wood floors may not work for every area in your home or business. Today's flooring manufacturers are giving customers more choices than ever before. With engineered hardwood flooring for example, you can have hardwood in such moist areas as bathrooms, kitchens, and basement. With these floors you can have the look you want anywhere.
Wood never responds well to moisture, which makes it impractical for basements or bathrooms, but what if you still want the look you love in a room that doesn't love wood? Engineered floors have a much higher resistance to moisture and don't expand and contract like regular wood, making them a great choice for these rooms.
This flooring type is also extremely durable, making it perfectly suited to homes that have pets, or offices that have extreme levels of foot traffic. Floors take a lot of abuse over their lifespans, which is why you should pick a flooring type that is actually engineered specifically to take this level of use every day.
Best of all, engineered hardwood flooring is actually a very affordable and eco-friendly choice for property owners looking for great style on a budget. If you love wood, but need to save some money at the same time, this is the flooring for you.
Hardwood Refinishing and Hardwood Flooring Installation
The great thing about hardwood is that if it begins to look dull or scratched, it is able to be easily revived with the help of our flooring experts. In addition to providing hardwood flooring installation for new products, our team of technicians also provides professional hardwood refinishing. Over our 28 years in business, we have continued to utilize a dust-free and non-toxic process that ensures your hardwood floors look as good as new in virtually no time at all.
Our installation experts offer the lowest rates in town, so you are able to get the floors you love at a fraction of the cost. We know that floors are only as good as the quality of their installation. Great floors are lessoned if they aren't cut and installed properly. That is why we want to make professional quality installations available to all of our customers by offering amazing prices.
We always provide free in-home estimates, as well as professional guidance throughout your flooring upgrade—from selection to installation. Best of all, we offer the Ultimate Confidence Guarantee, which means that our 30-day money back guarantee is in place if you are not satisfied with your new 4-Star or 5-Star rated flooring.
Our local store and showroom provides flooring throughout the area. If you are interested in either hardwood flooring installation or hardwood floor refinishing, simply ask us for more details. We would be happy to educate you about available wood floor options.

We're proud to serve customers throughout Montgomery, Prattville, Wetumpka, and Millbrook, Alabama.