Laminate Flooring in Montgomery, AL
Enjoy the best of both durability and design when you choose laminate floors at Carol's Carpet Flooring America!
We are the Montgomery area's go-to flooring store for all things laminate. A popular flooring solution, our quality laminate products offer all you need in style, kid and pet-friendly performance, and affordable pricing. You'll find a gorgeous selection of wood and tile-look laminate floors, paired with attentive customer service, design expertise, and our professional installations. No matter the size or scope of your project, we can help make your dream floors a reality. Visit our Montgomery, Alabama, showroom today to start browsing our laminate floors!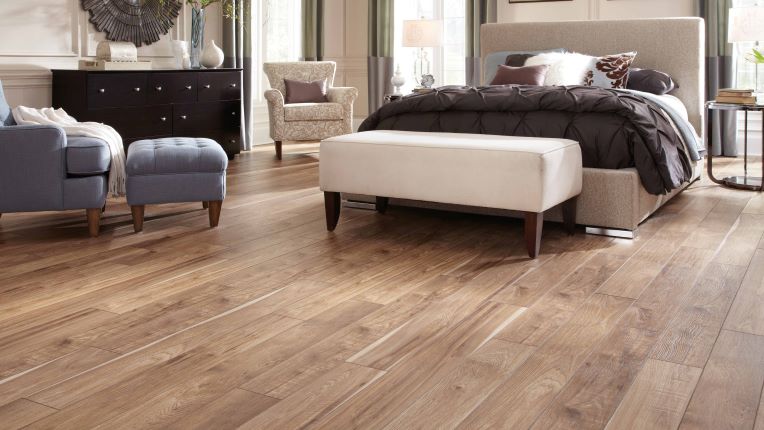 What is Laminate Flooring?
Similar to vinyl flooring, laminate is composed of four durable layers, each performing an essential function to create a durable, wear-resistant floor:
The Back Layer: Protects the subfloor and acts as a stable foundation for the plank.
The Core Layer: This wood by-product core produces a resilient feeling underfoot that supports high foot traffic over many years.
The Decorative Layer: Enjoy any wood or tile look with realistic photo printing and textures.
The Wear Layer: This clear top coat protects the entire plank from dents, scratches, scuffs, spills, and moisture.
Exploring the Types of Laminate Flooring
At Carol's Carpet Flooring America, we strive to bring our local customers a variety of quality laminate styles to fit any of your needs. We take the time to understand your current space, design goals, lifestyle, and budget to help determine the best fit laminate product for your project. We carry two types of laminate floors at our local flooring store—wood-look laminate and tile-look laminate.
Wood Look Laminate Flooring
Hardwood floors offer a timeless charm and sought-after beauty most customers seek out for their homes. However, real solid wood flooring is not always ideal in humid environments and can be a significant investment. With our wood look laminate, you can achieve any hardwood look you desire at a much lower cost, and with worry-free living in Alabama's high humidity.
Find gorgeous styles in different wood species, grain patterns, tones, plank sizes, and even textures. From the rustic look of cheery pine or the moody aesthetic of cherry, you can transform the look of your home with an inexpensive and quick laminate flooring renovation.
Tile Look Laminate Flooring
If you prefer the sleek look of natural stone, the elegance of porcelain, or a simple ceramic tile look, you can enjoy a variety of realistic tile looks in any room of your home with laminate. Laminate is much more affordable and easier to install than tile, while offering similar water resistance in kitchens and baths. When you visit our showroom, you can browse all our tile-look laminate flooring selections to decide which best complements your interior design goals!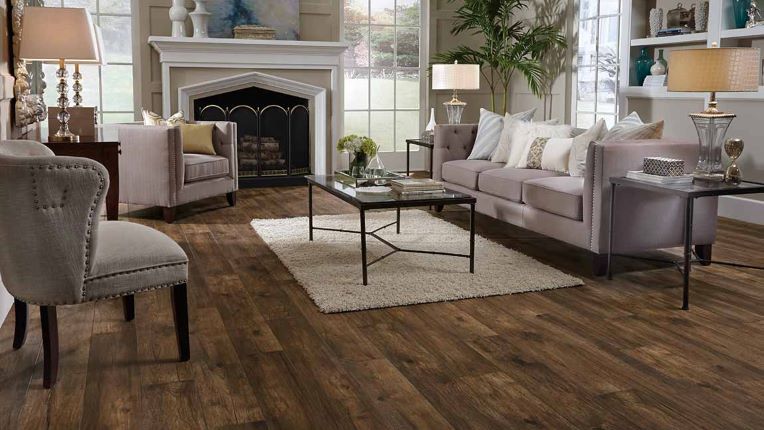 Benefits of Laminate Flooring for Your Montgomery Home
Why choose laminate for your Alabama home?
Laminate's versatility in style and performance make it an ideal choice for any home or commercial flooring renovation. It offers our customers so many advantages, including:
Swift Installation: Laminate flooring is a resilient material that's built for easy installation. This way, you can enjoy your new floors without delay.
Low-Maintenance: Laminate flooring is resistant to stains, scratches, and water, making it an excellent choice for high-traffic areas like kitchens and bathrooms. Maintenance is simple, requiring only occasional sweeping, mopping, and polishing to keep your floors looking pristine for years.
Affordable Elegance: Laminate wood flooring provides the aesthetic appeal of real wood or stone at a fraction of the cost.
Versatile Design Options: Laminate flooring offers a wide range of design choices, from wood-look to stone-look patterns, and an array of colors and styles, enabling you to achieve your desired aesthetic for any room in your home.
Moisture-Resistant: Since laminate doesn't expand or contract with changing temperatures, these wood-look floors or stone-look tiles can be installed in areas prone to moisture, such as basements and kitchens. This also means it stands up exceptionally well to Alabama's high humidity.
Comfortable Living: An affordable and quick way to transform your home and enhance its value, laminate flooring not only looks great but also provides a comfortable underfoot feel, making it an ideal choice for stress-free, comfortable living.
Professional Laminate Flooring Installations
Laminate flooring installation in Montgomery, Alabama has been made simple and efficient, thanks to the latest advancements in flooring technology. With our convenient click-lock system, your laminate floors can be installed swiftly and precisely over nearly any subfloor. The tongue-and-groove design paired with the skill of our local Montgomery installers ensures quick assembly of your new flooring, providing a perfect fit without the delays and complexities of custom fitting. This straightforward system guarantees a seamless appearance and eliminates the risk of warping or reshaping.
When you choose professional installation with us at Carol's Carpet Flooring America you can expect cost-effective efficiency and guaranteed results. We take pride in our skill and craftsmanship. That's why we stand behind every installation with an industry-leading warranty, the Adore Your Floor Guarantee. If you're not entirely satisfied with your new laminate floors, we'll replace them with a floor of equal or lesser value, entirely free of charge.
Contact us today to get started with your laminate flooring renovation! We are proud to serve Montgomery, Alabama, as well as the surrounding communities.