Tile Flooring in Montgomery, AL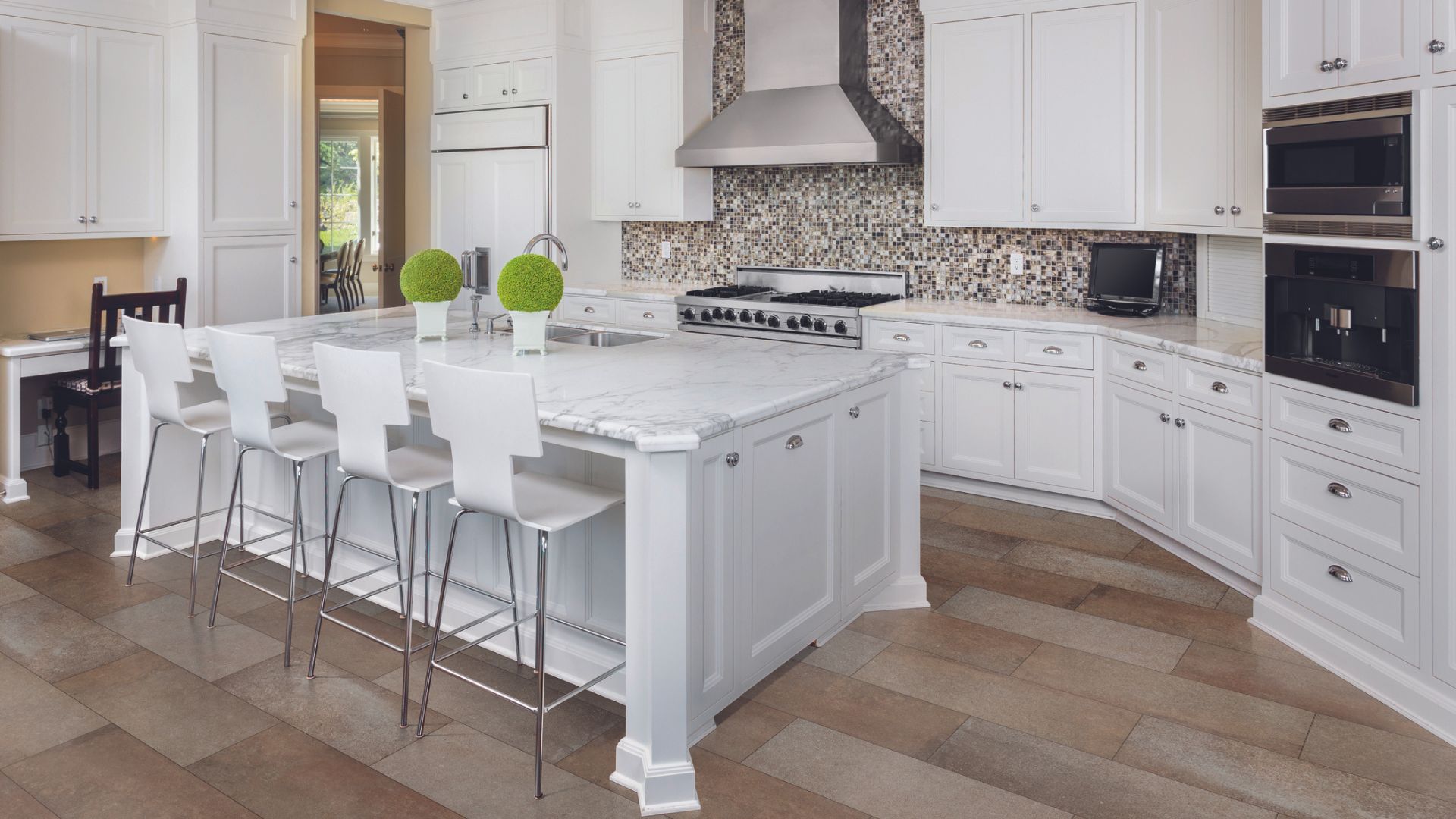 Discover top-tier tile flooring in Montgomery, AL, at Carol's Carpet Flooring America. Our reputation for delivering tile flooring that combines style, quality, and affordability is unmatched in the region.
When it comes to outfitting your home's wet or dry areas, our extensive selection of tile flooring is your ideal choice. Montgomery's climate, characterized by humidity and occasional spills, demands durable and stylish solutions. Our tile options meet these challenges while enhancing your home's aesthetic.
Visit our local showroom to explore our diverse range of floor tiles. Our experienced floor associates are eager to assist you in finding the perfect tile that aligns with your budget, complements your home's design, and stands up to daily wear and tear.
With a focus on interior design expertise, we ensure your chosen tile seamlessly integrates with your home's decor. Trust Carol's Carpet Flooring America for the finest tile flooring in Montgomery, AL, and elevate your living spaces with enduring beauty and functionality.
Durable and Long-Lasting Tile Floors
We carry the industry's leading floor brands at some of the lowest prices. By utilizing the impressive buying power of the Flooring America franchise for the last 28 years, we are consistently able to guarantee reasonable price tags on high-quality products.
Our superior selection of tile and our professional tile installation play a key part in the longevity of your new floors. Flooring replacement is a wasted investment if the tiles are placed poorly, and the grout is sealed improperly. Our team of experienced, on-staff installation experts ensures that the tile floors we install look great and last for many years.
The Benefits of Tile
Upgrade your floors with tile flooring and enjoy numerous benefits, making it a top choice for homeowners and businesses. Here's why tile flooring might be the perfect option for your space:
Durability and Longevity: Tile floors are exceptionally durable and can last for years with proper maintenance. They resist scratches and heavy foot traffic, making them ideal for high-traffic areas like entryways and kitchens.
Wide Range of Design Options: With a vast selection of colors, patterns, shapes, and sizes, tile flooring offers unmatched design versatility. Create a personalized and unique look that complements your classic or contemporary style.
Low Maintenance and Easy to Clean: Enjoy the convenience of low maintenance with tile flooring. Unlike carpets, tiles are easy to clean and hypoallergenic. Regular sweeping and occasional mopping keep them looking pristine, and their stain-resistant surface is perfect for areas prone to spills.
Allergy-Friendly and Hygienic: Tile flooring is an excellent choice for allergy sufferers. It doesn't trap allergens like carpets, providing a hypoallergenic surface that contributes to better indoor air quality and a healthier living environment.
Heat and Moisture Resistance: Tile flooring can withstand heat and moisture, making it suitable for areas exposed to high humidity and temperature fluctuations. Use it confidently in bathrooms, kitchens, and laundry rooms.
Types of Tile
Let's explore the different types of tiles available in our showroom, each with its distinct characteristics and benefits:
Ceramic tile is a highly popular choice for both flooring and backsplash designs. Crafted by heating and cooling kiln-fired clay, ceramic tiles are renowned for their durability and versatility. They come in many colors, patterns, and finishes, allowing you to unleash your creativity and create visually captivating spaces. With their resistance to stains, moisture, and wear, ceramic tiles are well-suited for high-traffic areas like kitchens, bathrooms, and entryways.
Porcelain tile shares similarities with ceramic tile but undergoes a more extended heating process, resulting in a denser and more resilient material. Prized for its exceptional strength and durability, porcelain tile is an excellent choice for areas that experience heavy foot traffic or are prone to moisture, such as bathrooms and commercial spaces. With advances in manufacturing techniques, porcelain tiles can authentically mimic the appearance of natural materials like stone or wood, offering an impressive range of design possibilities.
Natural stone tile is perfect for those who crave nature's timeless beauty. Our collection includes various natural stone options, such as marble, slate, and travertine. Each type of natural stone tile showcases its unique color variations, intricate veining patterns, and textures, resulting in a truly distinctive and elegant look. These tiles bring a touch of sophistication to any space. They are especially well-suited for outdoor spaces like walkways and patios, thanks to their durability and ability to withstand the elements.
Wood-look tile provides an ideal solution if you desire hardwood floors' warm and inviting aesthetics but require enhanced moisture resistance. Crafted using ceramic or porcelain materials, these tiles flawlessly replicate the natural appearance of wood while offering exceptional durability and water resistance. With advancements in manufacturing techniques, wood-look tiles capture various wood species' grain patterns, textures, and colors, allowing you to achieve the desired ambiance without compromising practicality.
Tile Floor Installation with a Satisfaction Guarantee
Every tile floor installation we perform is backed by a satisfaction guarantee called the Ultimate Confidence Guarantee, which ensures you are happy with the appearance and performance of your floors. If you aren't satisfied, we will replace your new floors with a similar tile product of equal or less value, completely free of charge!
For more information about the tile flooring from our local store and showroom, contact us at your earliest convenience! Also, feel free to stop by our location and view our selection firsthand.

Contact us today! We proudly provide tile installations throughout Montgomery, Prattville, Wetumpka, and Millbrook, Alabama.