Vinyl Flooring in Montgomery, AL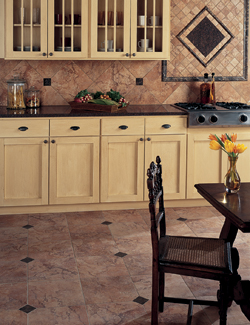 Enhance the appearance of any room by adding expertly-designed vinyl flooring from our store. When you shop with us, we help you put together a cohesive-looking space that complements your decorating style. Our professional flooring team has the skills to assist you with any project you have in mind. Whether you are covering your kitchen, living room, office waiting area, or sales room floor, we have the perfect vinyl solution for you.
What pattern, color, and design do you want? Shop at our store for a wide variety of options. Our inventory is filled with many flooring choices in all styles and materials. Unlike other establishments, we include both traditional and newer styles. This way, you have the option of comparing your top selections to make a more informed decision.


Precise & Customized Vinyl Floor Installation
Leave it to our highly-trained vinyl floor installation team to put down your flooring. When we come to your location, we'll bring all the necessary equipment and tools to do the job. Our team always makes sure we are prepared.
By having the right gear available, we can cater to your design specifications. We also make it a priority to clean up after we are done. Left over, unusable material and debris will be removed before we leave.


Carrying Vinyl Flooring Top Brands
At our store, we have vinyl flooring that is produced by some of the industry's top manufacturers. The brands we have feature many different looks. Our products also come in different types, such as plank and tile. As far as the brands, they include:
Downs™
Floorcraft™
Galleria LTV™
Hampton Resilient™
Naturcor™
PURstone™
Spotlight Values™


Benefits & Advantages of Vinyl Floors
Installing vinyl flooring has many benefits. It not only improves the appeal of any space, but it also provides a cushier feeling for your feet. You can walk around on a cushioned floor instead of an extra-hard surface, like ceramic or hardwood. Vinyl is also scratch-resistant. Once it is installed, you don't have to worry about your pet's nails scratching your floor.
In addition to the advantages above, vinyl is also very durable. Unlike carpet, it can withstand heavy foot traffic. Where carpet may start to appear worn, vinyl keeps its vibrant and attractive look.


Vinyl Floor Maintenance: Keeping Your Floor Clean
Easily maintain your floors using some simple cleaning tips. First, you can use doormats and throw rugs to prevent people from tracking dirt, gravel, and other substances on your floor. Also, sweep every day. Sweeping prevents dirt and dust from building up. For scuff marks, if warm water doesn't work, spray some WD-40 on a cloth to buff out the marks.
To remove odor and give your floor a nice wash, mop with a vinegar and water solution. You only need equal parts of water and apple cider vinegar to make the mixture. It is very effective, and also non-toxic. If you aren't a fan of vinegar, you can use a no-wax cleaner.



Contact us today to install beautiful vinyl flooring in your home or business with the help of our team. Our Montgomery, Alabama, based store is proud to be your go-to source for flooring materials.