Your Source for Wood Look Tile in Montgomery, AL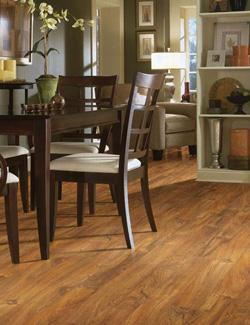 People love the natural beauty of a hardwood floor and the character it gives a room. However, wood flooring is not appropriate for every room in the home. Wood is susceptible to water damage, so it is best to avoid hardwood in areas prone to moisture and regions with high humidity.
Fortunately, an alternative is available at Carol's Carpet Flooring America; visit our store to see our collection of wood look tile in Montgomery, AL. These special tiles give you the same handsome appearance as wood without the moisture concerns. Furthermore, we're proud to offer a broad selection of surfaces replicating nearly any wood species you can name. Stop by today to find your ideal wood alternative.

Why Moisture and Wood Don't Work
Wood is a highly porous material, so it tends to absorb liquids and even sucks in moisture from the air. The slight increase in mass causes the wood to swell temporarily -- for example, you may have noticed that your door sticks in its frame after a lot of rain. The same thing can happen to hardwood. When a wood floor frequently expands and contracts, ugly gaps appear, and the surface becomes more susceptible to wear and tear.
With wood plank porcelain tile and ceramic tile, you avoid this issue. Tile is not nearly as porous and absorbent as wood, so it is suitable for even the most humid climates. Furthermore, tile's water resistance makes it ideal for bathrooms, kitchens, basements, laundry rooms, and entryways.

A Great Investment for Any Home
The beauty and durability of wood plank ceramic tile and porcelain tile make them great investments for any home. First, the design options are near limitless. There's a multitude of different styles available at our showroom, mimicking the look and wood grain of popular species like oak, birch, maple, and more. Talk to our team members to get a style recommendation tailored to your home's needs.
Next, these tile surfaces are easy to clean. All you need on a routine basis is sweeping or mopping. Most spills can be wiped up without issue. Get detailed, brand-specific care instructions by speaking with the porcelain and ceramic wood tile experts at our store.
Finally, a tile floor can help you keep your home cooler in the summer. You'll notice a considerable difference, especially compared to houses with carpet. To learn more about these and other advantages, visit our flooring showroom today.


Contact us to learn more about our wood look-alike flooring options. We proudly serve customers from throughout Montgomery, Prattville, Wetumpka, and Millbrook, Alabama, as well as the neighboring communities.